Have peace of mind with our highly qualified heavy equipment field service pros in Cleveland, TN and Bradley County.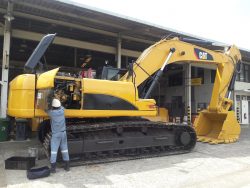 Getting to the core of the problem of your heavy machinery shouldn't cost you a drive out to another destination. With the experts at Top Tech Automotive, we pride ourselves on helping our clients in Cleveland, TN and the surrounding areas get all the best in heavy equipment repairs & maintenance with quality onsite equipment servicing.
Heavy Equipment Repair & Maintenance Services
We provide onsite heavy equipment repair and servicing for brands like CAT, Kenworth, Bobcat, John Deere, Peterbilt, CASE, and more. We also offer RV repair services.
For more than 30 years, we've mastered our equipment repair field service techniques to bring you excellence and professionalism you can depend on. We have also equipped our service trucks with state-of-the-art equipment to tackle heavy onsite maintenance and repairs.
Services You Can Trust, Guaranteed
Get superior service with each equipment maintenance & repairs session and quality interactions with our onsite team.
We're an AAA-approved auto repair shop
Proven track record with the Better Business Bureau
Market competitive pricing
Our staff are trained, skilled, and certified by the National Institute for Automotive Service Excellence (ASE)
Convenience with equipment repair field service (no matter where in Bradley County or the surrounding areas you are)
Our Key Specialities
Brake services of construction and other heavy equipment
Brakes play an important role in safety and help prevent downtime. Good brakes are a must-have, whether farm or construction equipment.
Heavy equipment maintenance & repair
We provide routine and preventative maintenance & repair services for heavy equipment including excavators, graders, loaders, planers, trucks, tractors, spreaders, harvesters, dozers, and more! Our on-site field service team is equipped for all your repair and service needs.
Oil changes
Changing your machinery oil is critical and helps improve performance and reduce and remove dirt and excess debris.
Radiator repair
Radiators maintain temperature control, and faulty radiators can cause high temperatures and possible machine failure.
Transmission system repair and services
A properly functioning transmission is vital for temperature control and the functioning of gears within the vehicle.
Contact Us Today!
If you need onsite heavy equipment servicing and maintenance, then you're at the right place. Get affordable quality and service you can trust every time for farming equipment repairs, construction equipment repairs, industrial equipment repairs and more. Call us at (423) 478-2964 today to schedule your diagnosis! Sign up for our newsletter, so you never miss out on information, special deals and offerings.